Amazon is the world's largest bookstore – yet very few authors take advantage of promoting themselves by setting up their Author Page on Amazon. Creating your page on Amazon is an excellent way to promote yourself and the work you do. Your Author Page allows you to group your Amazon titles together, along with photos of you, your biography, blog feeds, videos, and any tour or conference events you might be taking part in. Every little bit of promoting your activity and the work you do really does help – it's a sure-fire way to generate online interest in you and your titles. Once you've created your Amazon Author page (and it's been approved) then take a look at your book's product page on Amazon. Your name will automatically have changed to a link directly to your author page! Check out these great examples of Author Pages for some inspiration: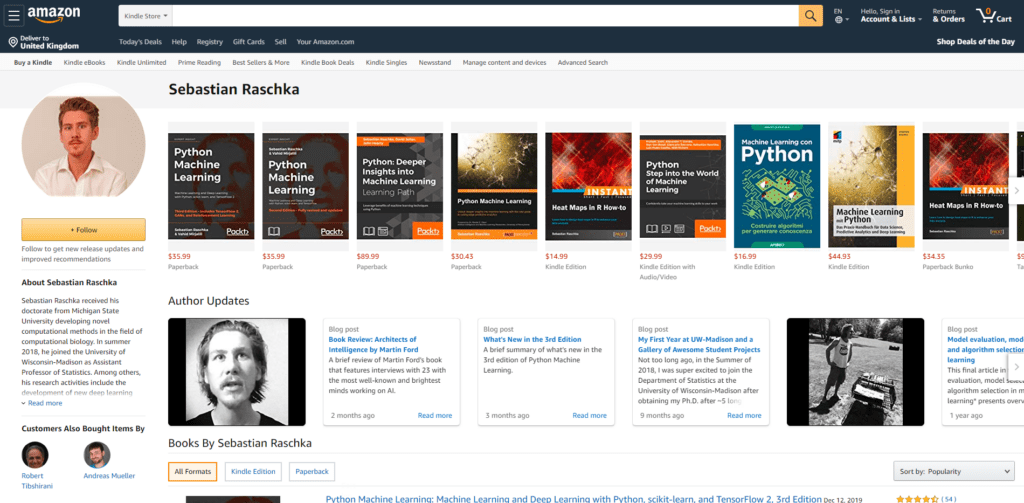 How to create your Amazon Author Page
Head over to https://authorcentral.amazon.com/ and click Join Now.
Enter your email address and password to sign in (Don't have an account? Sign up using the 'No, I am a new customer' option).
Read and agree to the Author Central's Terms & Conditions.
Enter the author name your books are written under – a list of possible matches should show.
Select any one of your books (No luck? Try searching by its title or ISBN).
The book you select needs to be available to purchase on Amazon. By selecting the book, you'll be creating your Author account.
You'll receive a confirmation email – follow the instructions to confirm your email address.
If you are working with a publisher then Amazon may contact them to verify your identity. This could involve confirming your email address, so make your publishers are aware of the email address you've used to log into Amazon. That way they'll be able to approve this more quickly. Other than confirming your identity, all of your customer information (such as reviews or purchase history) remains entirely private.

Still waiting for approval? This may take up to 7 days, but you can still use some of Author Central's features! Add a photo or biography – this content will be stored until your identity has been verified. You won't be able vto make certain changes (such as editing the books in your bibliography) until your account has been confirmed.