Key insights from the global tech community about the trends and challenges faced by decision makers and tech professionals
A Product Marketers Guide to Tech in 2023
This report has been compiled for the benefit of individuals working in content strategy and product marketing roles at software companies. It aims to uncover how priorities have shifted for tech professionals and decision makers, and understand how vendors can improve their products and supporting content to address emerging challenges.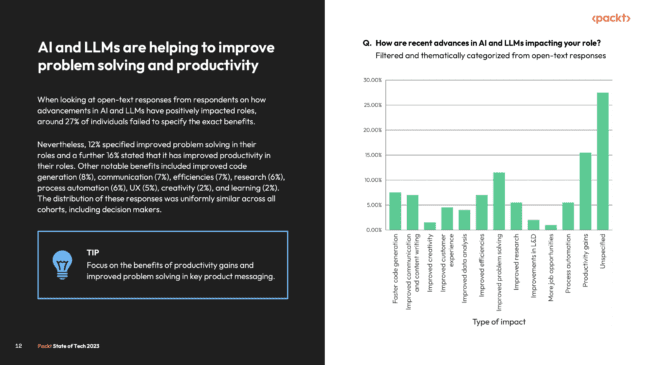 Understand Decision Maker and Tech Pro Challenges
For our State of Tech 2023 report, Packt surveyed technical professionals worldwide to discover:
How advancements in AI and LLMs are impacting roles
Key challenges to job roles in 2023
Emerging tools and topics that individuals are learning
Cloud vendor preferences and services of interest
Influence and frequency of interaction with key content types
This report is based on a survey sent to followers of Packt's technical newsletters - conducted from April 17 to April 26, 2023. This survey generated 1,200 responses from engineers, senior developers, VPs, and C-suite executives across 41 countries.
Fill out your details in the form below to read the report.