Alexis is the author of Privilege Escalation Techniques, we got the chance to sit down with him and find out more about his experience of writing with Packt.
Q: What is/are your specialist tech area(s)?
Alexis: Penetration Testing & Red Team Operations
Q: How did you become an author for Packt? Tell us about your journey. What was your motivation for writing this book?
Alexis: I have been a content creator and Cyber security instructor for 5 years and have covered a wide range of subjects and topics in Infosec and Cyber security. During my time working on video training courses for professionals and companies, I also begin working on technical writing and frequently published in-depth guides and tutorials in written format on my personal blog as well as producing in-depth documentation for companies. This process lead me to realize that in addition to producing video content, I also have an aptitude and passion for writing.
As a result , I begun collating and revising all my previous written guides in an attempt to produce an eBook on Penetration Testing. After doing so, I released the eBook content for free on my blog and to my surprise it was met with a good amount of support as well as constructive criticism (which has helped me a lot). During the same time, I also wanted to begin converting my video content and courses in to books, and after due consideration, I settled on working on an in-depth guide to elevating privileges on Windows and Linux systems as I did not find any useful books on the subject. I begun reaching out to publishers, after which, Packt reached out to me and reviewed my proposed outline and agreed to provide me with the opportunity to create and produce this book.
Q: What kind of research did you do, and how long did you spend researching before beginning the book?
Alexis: Given my extensive experience in the field (7+ years working as a penetration tester), I had a good idea of what i wanted to cover, however, I need to work on improving the structure and cohesion of the content. Most of my research was focused on the actual techniques and ensuring that they can be replicated by the readers with ease. I spent about 1.5 months performing my research.
Q: Did you face any challenges during the writing process? How did you overcome them?
Alexis : My only challenge revolved around ensuring that the chapters were cohesive and built on another.
Q: What's your take on the technologies discussed in the book? Where do you see these technologies heading in the future?
Alexis : Privilege escalation is a vital element of the attack life cycle and is a major determinant in the overall success of a penetration test. The importance of privilege escalation in the penetration testing process cannot be overstated or overlooked. Developing your privilege escalation skills will mark you out as a good penetration tester. The ability to enumerate information from a target system and utilize this information to identify potential misconfigurations and vulnerabilities that can be exploited to elevate privileges is an essential skill set for any penetration tester.
Q: Why should readers choose this book over others already on the market? How would you differentiate your book from its competition?
Alexis : This book is a comprehensive guide on the privilege escalation process for Windows and Linux systems and is designed to be practical and hands-on by providing the reader with real world exercises and scenarios in the form of vulnerable environments and virtual machines. This book differentiates itself from other books by covering the process of performing Local enumeration and provides readers with exercises and challenges that they can use to replicate the techniques they are learning.
Q. What are the key takeaways you want readers to come away from the book with?
Alexis : 1. Understand the privilege escalation process and how it differs from Windows to Linux
2. Learn how to setup a virtual penetration testing lab
3. Gain an initial foothold on the system
4. Perform local enumeration on target systems
5. Exploit kernel vulnerabilities on Windows and Linux systems
6. Perform privilege escalation through password looting and finding stored credentials
7. Get to grips with performing impersonation attacks
8. Exploit Windows services such as the secondary logon handle service to escalate Windows privileges
9. Escalate Linux privileges by exploiting scheduled tasks and SUID binaries
Q. What advice would you give to readers learning tech? Do you have any top tips?
Alexis : Focus on the fundamentals first, avoid the trap of trying to learn too much too fast.
Q. Do you have a blog that readers can follow?
Alexis : https://hackersploit.org
Q. Can you share any blogs, websites, and forums to help readers gain a holistic view of the tech they are learning?
Alexis : https://hackthebox.eu
https://overthewire.org/wargames/
Q. How did you organize, plan, and prioritize your work and write the book?
Alexis : I start off by defining a clear outline of the content that will be covered, i then move on to fleshing out the content. After the outlining process, i begin testing and researching the techniques i will be covering to ensure that the process is as accurate as possible and the reader can recreate the techniques.
Q. How would you describe your author journey with Packt? Would you recommend Packt to aspiring authors?
Alexis : My experience with Packt has been fantastic, the editing team has been extremely helpful and insightful during the entire process. I would definitely recommend Packt to aspiring authors looking to begin their journey as a technical author.
Q. How would you describe your author journey with Packt? Would you recommend Packt to aspiring authors?
Alexis : DEF CON
Q. What is the one writing tip that you found most crucial and would like to share with aspiring authors?
Alexis : Setup and abide by a daily writing schedule, progress is made in increments.
Don't forget to follow Alexis on his social handles: LinkedIn, Twitter and Youtube
You can find Alexis's book on Amazon by following this link click.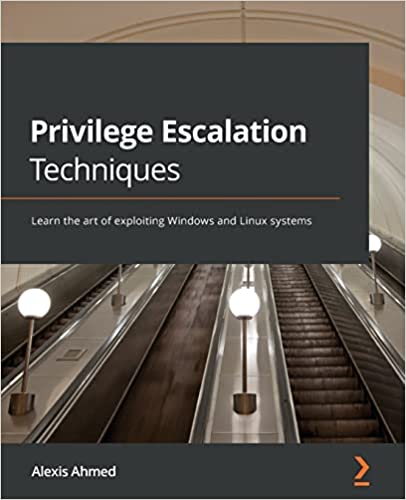 Post Settings
Toggle panel: Post SettingsGeneralSmart ListReviewsLockerPost template:?











Single Post Template 59 – Classic Blog PRO
Single Post Template 17
Single Post Template 34Primary category:? Auto select a category Articles – [ id: 19604 ] – Author Marketing – [ id: 19546 ] – Writing Tips – [ id: 19603 ] Author Interviews – [ id: 19612 ] – Academic Professionals – [ id: 20934 ] – Business Application Professionals – [ id: 20935 ] – Creative Professionals – [ id: 20936 ] – CRM Architects – [ id: 20931 ] – Data Engineers – [ id: 20938 ] – Data Scientists – [ id: 20929 ] – Game Developers – [ id: 20937 ] – Infrastructure Architects – [ id: 20932 ] – Machine Learning Engineers – [ id: 20930 ] – Mobile Developers – [ id: 20939 ] – Programmers – [ id: 20925 ] – Security Engineers – [ id: 20923 ] – Software Developers – [ id: 20926 ] – Systems Engineers – [ id: 20933 ] – Web Development – [ id: 20928 ] Training Professionals – [ id: 20927 ] Uncategorized – [ id: 1 ] If the posts has multiple categories, the one selected here will be used for settings and it appears in the category labels.Sidebar position:?
Custom sidebar:?Default SidebarSubtitle:This text will appear under the titleQuote on blocks:Show a quote (only when this article shows up in blocks that support quote and only on blocks that are on one column)Source name:This name will appear at the end of the article in the "source" spot on single postsSource url:Full url to the sourceVia name:Via (your source) name, this will appear at the end of the article in the "via" spotVia url:Full url for via
Yoast SEO Premium
Toggle panel: Yoast SEO Premium
You haven't activated your Yoast SEO Premium subscription yet! This means you are missing out on features you paid for, so activate your subscription now(Opens in a new browser tab)!Focus keyphraseHelp on choosing the perfect focus keyphrase(Opens in a new browser tab)
Snippet Preview
SEO title preview:
https://authors.packtpub.com › interview-with-analytics-crm-master-mark-tossellInterview with Analytics & CRM Master – Mark Tossell | Packt AuthorsUrl preview:Meta description preview:Oct 19, 2021 ⋅ Mark is the author of Creating Actionable Insights Using Tableau CRM, we got the chance to sit down with him and find out more about his experience ofMobile previewDesktop previewEdit snippet
SEO analysisOKTableau
Add related keyphrase
Cornerstone content
Insights
Open document settingsOpen publish panel