Q: What are your specialty areas?
Ryan: Most of my time in IT has been spent delivering web services and front-end applications, with an emphasis in the Internet of Things domain.
Q: How did you become an author for Packt? Tell us about your journey. What was your motivation for writing this book?
Ryan: In March 2020, my colleague Neel Mitra reached out to me about guiding him on a book project he was interested in writing. I was so interested in the topic that we ended up co-authoring the book! At the time I was the worldwide technical leader for IoT at Amazon Web Services and saw great opportunity in delivering a book on intelligent edge workloads for IoT architects.
Q: What kind of research did you do, and how long did you spend researching before beginning the book?
Ryan: My intuition for why this book needed to be written comes from years of interacting with my customers and their engineering teams. IoT projects are typically large, multi-faceted, and confusing about where to start. I couldn't find any books out there that take a narrative approach to learning the end-to-end of delivering cloud-native IoT & machine learning workloads; the kind of book I would recommend to learners in this space. AWS IoT Greengrass version 2 was also brand new at the time, resetting the landscape of existing material.
Q: Did you face any challenges during the writing process? How did you overcome them?
Ryan: Yes, authoring a book about a brand new AWS service introduced two challenges. First, getting stuck meant figuring out how to get unstuck using the logs, documentation, or seeking help from what was then a small community of developers. Hopefully our book helps learners avoid some of the pitfalls that we discovered. Second, as new features of AWS IoT Greengrass version 2 were released throughout 2020, we needed to decide which were critical enough to incorporate into the book we had already outlined and started writing. This meant some retesting finished code and rewriting sections, but always because a new feature simplified what was already written!
Q. What's your take on the technologies discussed in the book? Where do you see these technologies heading in the future?
Ryan: IoT and machine learning technologies are becoming easier to use and deploy over time, which means that the range of businesses and developers who are comfortable using them will also continue to grow. One developer is now enough to understand and interoperate these technologies, though we recommend a team of diverse experts work together on a production-grade solution. In the future, we will see cloud vendors like Amazon and Microsoft continue to abstract away the heavy lifting of these technologies until deploying intelligent edge workloads is as approachable as web 2.0 applications are today. This is key to the vision of a decentralized Internet of Things where sensing of and interacting with the physical world is delivered through many owners of edge solutions working in aggregate.
Q. Why should readers choose this book over others already on the market? How would you differentiate your book from its competition?
Ryan: The star of our book is AWS IoT Greengrass version 2, which was rewritten from the ground up to simplify the definition, deployment, and operation of intelligent edge workloads at scale. When we set out on this journey, there were no other books on IoT or machine learning workloads that featured Greengrass v2 as the primary technology to enable such workloads. Our book takes an approach that mixes a hands-on technical textbook with a project narrative to keep readers oriented towards an end-to-end project deliverable. The project and technologies selected can operate independently from the internet once deployed to a device, rather than needing an ever-present connection to the internet to function.
Q. What are the key takeaways you want readers to come away with from the book?
Ryan: You may be surprised just how accessible designing and deploying intelligent edge workloads are today. We hope this book shines some light on how far this technological domain has come in terms of learning, onboarding, and scaling. Don't try to reinvent any wheels when it comes to IoT and security; build on top of what the experts (like Amazon Web Services) have documented and delivered here.
Q. What advice would you give to readers learning tech? Do you have any top tips?
Ryan: You can do just about anything in tech, but you need to understand why you have an objective and what are the steps in your journey to reach it. If you can explain to a diverse set of people why you are trying to solve a problem with tech and your understanding of what it will take to get there, you should be on a solid path to reaching your goal. Also, take time to analyze and critique steps you've already taken. Your path forward is the aggregate of your previous vectors, not just the next one toward your goal.
Q. Do you have a blog that readers can follow?
Ryan: I don't currently maintain a blog and have withdrawn from all social networks but LinkedIn. You can find me on LinkedIn where I occasionally share some interesting links relevant to my current projects.
Q. Can you share any blogs, websites and forums to help readers gain a holistic view of the tech they are learning?
Ryan: Check out Stacey on IoT (https://staceyoniot.com/) for reporting and analysis of IoT trends. Check out the Hannover Messe and Embedded World conferences for trends at the annual cadence. The AWS Blog (https://aws.amazon.com/blogs/) writes many articles about the technologies themselves, the customers who are using them, and the impact customers are having in the world.
Q. How would you describe your author journey with Packt? Would you recommend Packt to aspiring authors?
Ryan: As a first time author, I was pleased with Packt's structured approach to the authoring process. We had a team of people supporting us along the way from the planning phase, to editing, and throughout the release phase of the book!
Q. Do you belong to any tech community groups?
Ryan: I belong to a few communities internal to Amazon on domains like IoT and sustainability.
Q. What are your favorite tech journals? How do you keep yourself up to date on tech?
Ryan: I check Y Combinator's Hacker News multiple times per day! https://news.ycombinator.com/ I find this to be the best amalgamation of various curated articles from today but also interspersed with worthwhile historical resources linked from the past. I'll check the comments here to see what developers really think of AWS product launches.
Q. How did you organize, plan, and prioritize your work and write the book?
Ryan: Organizing my life to be able to write a book was probably harder than writing the book itself! Packt helped us with the plan in the form of materials for writing a detailed outline, setting goals in terms of content length and pacing, and enabling us to focus on writing while handling all the rest of the work to publish a good book. Prioritization of my time was the biggest challenge for me. Most of the book came to life in bursts of productivity on the weekends, while I reserved time on week nights for incremental tasks like edits, graphics, and writing the code resources.
Q. What is that one writing tip that you found most crucial and would like to share with aspiring authors?
Ryan: Writing a book while holding a full time job is an immense amount of responsibility and commitment. Talk to your family about what it will take, be honest with yourself about your pace of writing, and be humble and forgiving with yourself as you make your way. You can do it!
You can find Ryan's book on Amazon by following this link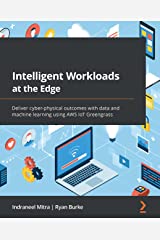 Post Settings
Toggle panel: Post SettingsGeneralSmart ListReviewsLockerPost template:?











Single Post Template 59 – Classic Blog PRO
Single Post Template 17
Single Post Template 34Primary category:? Auto select a category Articles – [ id: 19604 ] – Author Marketing – [ id: 19546 ] – Writing Tips – [ id: 19603 ] Author Interviews – [ id: 19612 ] – Academic Professionals – [ id: 20934 ] – Business Application Professionals – [ id: 20935 ] – Creative Professionals – [ id: 20936 ] – CRM Architects – [ id: 20931 ] – Data Engineers – [ id: 20938 ] – Data Scientists – [ id: 20929 ] – Game Developers – [ id: 20937 ] – Infrastructure Architects – [ id: 20932 ] – Machine Learning Engineers – [ id: 20930 ] – Mobile Developers – [ id: 20939 ] – Programmers – [ id: 20925 ] – Security Engineers – [ id: 20923 ] – Software Developers – [ id: 20926 ] – Systems Engineers – [ id: 20933 ] – Web Development – [ id: 20928 ] Training Professionals – [ id: 20927 ] Uncategorized – [ id: 1 ] If the posts has multiple categories, the one selected here will be used for settings and it appears in the category labels.Sidebar position:?
Custom sidebar:?Default SidebarSubtitle:This text will appear under the titleQuote on blocks:Show a quote (only when this article shows up in blocks that support quote and only on blocks that are on one column)Source name:This name will appear at the end of the article in the "source" spot on single postsSource url:Full url to the sourceVia name:Via (your source) name, this will appear at the end of the article in the "via" spotVia url:Full url for via
Yoast SEO Premium
Toggle panel: Yoast SEO Premium
You haven't activated your Yoast SEO Premium subscription yet! This means you are missing out on features you paid for, so activate your subscription now(Opens in a new browser tab)!Focus keyphraseHelp on choosing the perfect focus keyphrase(Opens in a new browser tab)
Snippet Preview
SEO title preview:
https://authors.packtpub.com › interview-with-indraneel-mitraInterview with Indraneel Mitra | Packt AuthorsUrl preview:Meta description preview:Jan 3, 2022 ⋅ Q: What are your specialty areas? Indraneel: Internet of Things, Edge Computing, Cloud Computing, Big Data, Machine Learning, Domain Driven Design Q:Mobile previewDesktop previewEdit snippet
SEO analysisEnter a focus keyphrase to calculate the SEO score
Add related keyphrase
Cornerstone content
Insights
Advanced
Open document settingsOpen publish panel